Split type Carton Case packing system line
Top load carton case packer machine is Case packing system line that used to load cases vertically with products by auto It is wildly used in cosmetics, medicine, healthcare, commodity, etc.
TECHNICAL PARAMETERS

VIDEO
Model
XQ-ZX400L
Packing Size
L 250-550mm; W 150-400mm; 150-400mm; Customized
Production Capacity
Max. 6 downloads/carton, and loading 4 cartons at the same time per minute.
Product loading method
Top-loading
Total Power
2.3KW
Working Voltage
380V/ 50Hz
Air pressure source supply
5.5~6kg/cm2
Machine Dimensions
L2130 mm ×W2050 mm ×H3200 mm. depend on customized
N.W
1000KG, depend on customized
Note: For Customized product, all data above are for reference only, the final data are subject to actual demand.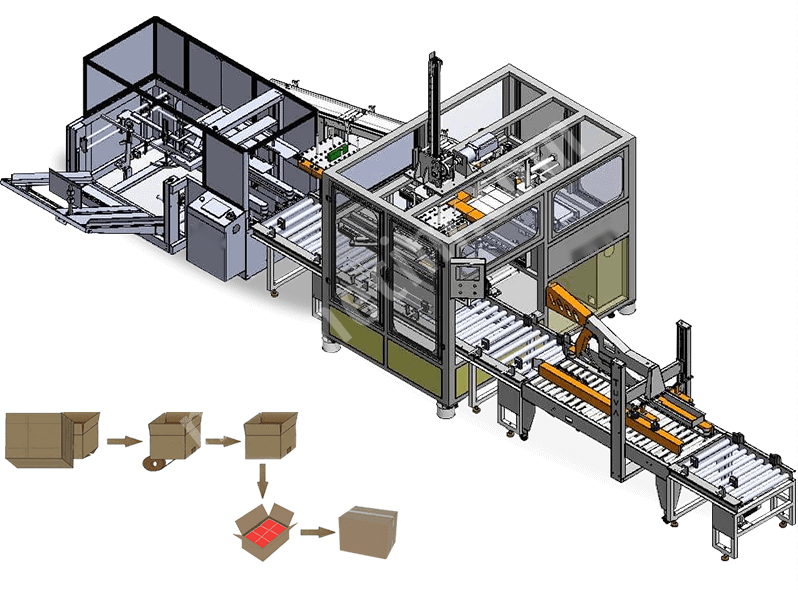 Split type Case packing system line is Case packing system line that consist of automatic carton rector (optional), vertical automatic case loading machine (can be customized), automatic carton sealer (optional) and other optional machines.
The front end of the machine is usually connected with packaging equipment such as an automatic cartoning machine, and the carton products after the cartoning machine is packed into the carton are stacked, and then a flat carton is grabbed into the carton by the suction cup manipulator, and finally Transfer to the case sealer for sealing. The entire process is fully automatic and requires no human intervention.
widely used in the packing and packaging of products in the following industries; electronic accessories, pharmaceutical industry, food industry, daily chemical industry, hardware industry, auto parts industry, plastic industry, electronics industry, entertainment industry, toy industry, household paper industry, etc.
| | | | |
| --- | --- | --- | --- |
| Name: | Split Type Carton Case Packer Machine | Automation: | Automatic |
| Speed: | Customized | Available Carton Size: | L250-550mm*W200-400mm*160-400mm |
| Available Product: | Product In Cartons, Boxes, Bottles, Books, Naked Product | Structure: | Split Type |
| Loading Type: | Top Load, Grab Type | Sealing Type: | Tape Or Glue |
| Voltage: | 220/380v | Application: | Stationery, Pharma, Costmetics, Personal Care, Health Care Etc. |
The bottled products are regularly transported to the top of the carton by the entire conveyor, and then the products are vertically dropped into carton by the flexible drop device to achieve the purpose of packing.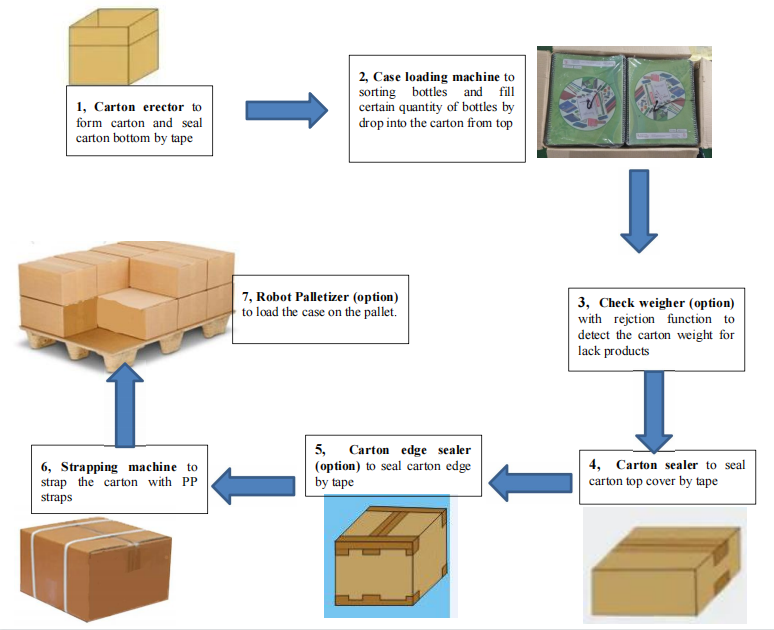 1. The unmanned automatic packaging production line integrates carton erecting, product loading and bottom sealing machine, automatic grab-type packing, and in-line folding and sealing.
2. The parts in contact with the product are made of SUS304 stainless steel
3. The transmission and friction parts are strictly implemented according to the standard, and the later wear is less, and the replacement of parts is reduced.
4. The advantages of this packaging production line equipment are labor-saving, neat, consistent and stable packaging appearance. The cartoning machine completes the opening, packing, folding ears, folding, spraying, gluing, coding, labeling, Then open the box and seal the bottom, stack the boxes, and finally enter the folding I-shaped box sealing machine.
5. The equipment in this production line can also be used alone, or can be combined with other equipment before and after, such as material sorting machine, manipulator, three-dimensional packaging machine, pillow packaging machine, vertical bag packaging machine, assembly machine, automatic filling machine, paste Standard machines, inkjet printers, and other types of mechanical equipment are connected to achieve linkage use.
6. It is suitable for automatic unpacking and back sealing of cartons of various sizes. If you need to change the size of the carton, you can adjust it manually;
7. The unpacking machine can be operated by a single machine, and the whole machine is usually used in conjunction with an automatic packaging line.
8. Stable performance, reliable quality, strong applicability, high packaging efficiency, long service life; precise and durable mechanical performance, strict structural design, no vibration during operation, stable and reliable operation;
9. High degree of automation: automatic unpacking, automatic folding of the lower cover, automatic sealing of the lower bottom tape, automatic packing, automatic sealing, automatic packing, the machine is controlled by PLC + display screen, which is easy to operate and is essential for automatic large-scale production. Pipeline equipment.