Bottle case packer machine by drop load solution
Bottle case packer machine by drop load solution is specially designed for bottle products in Food , Beverage industry etc.
TECHNICAL PARAMETERS

VIDEO
Model
XQ-DLZX200
Packing Size
L 250-550mm; W 150-400mm; 150-400mm; Customized
Production Capacity
Max. 6 downloads/carton, and loading 4 cartons at the same time per minute.
Product loading method
Top-loading
Total Power
2.3KW
Working Voltage
380V/ 50Hz
Air pressure source supply
5.5~6kg/cm2
Machine Dimensions
L2130 mm ×W2050 mm ×H3200 mm. depend on customized
N.W
1000KG, depend on customized
Note: For Customized product, all data above are for reference only, the final data are subject to actual demand.


Bottle case packer machine has a wide range of applications and a small spot area. It can be used alone. It is suitable for automatic packing of various specifications of bottled, potted and barreled products. It can also be used online with a filling machine to complete the subsequent packaging process. According to the requirement of product packing quantity, this machine can automatically arrange the products and put them into the box, and the products filled with the box are automatically sent to the conveying roller to enter the box sealing machine.

Bottle case packer machine is widely used in bottled products of food and drinks industries such as Oil, beverages, mineral water, fruit juice drinks, cans carbonated drinks,
| | | | |
| --- | --- | --- | --- |
| Name: | Drop Load Bottle Case Packer Machine | Automation: | Automatic |
| Speed: | 1-10 Cases/min | Available Carton Size: | L250-550mm*W200-400mm*160-400mm |
| Available Product: | Product In Bottles | Structure: | Split Type |
| Loading Type: | Drop Load | Sealing Type: | Tape |
| Voltage: | 220/380v | Application: | Oil, Beverages, Mineral Water, Fruit Juice Drinks, Cans Carbonated Drinks etc. |
The bottled products are regularly transported to the top of the carton by the entire conveyor, and then the products are vertically dropped into carton by the flexible drop device to achieve the purpose of packing.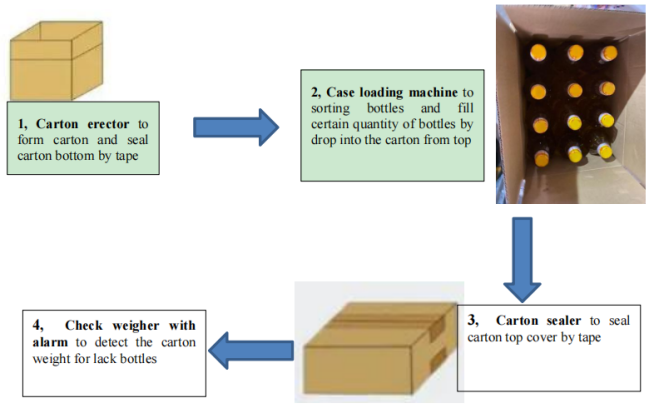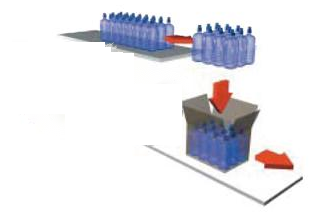 ●According to the customer's packing arrangement requirements, the products are automatically arranged and combined
● Novel design and compact structure. The flexible drop box is realized by the drop box buffer device
● Wide range of applications, suitable for packing a variety of products.
● When packing, the equipment will automatically open and position the top of the carton to ensure smooth packing.
● It has a wide range of applications and can meet the packing of various specifications.
● The product sorting and packing can be realized in the same station, which solves the problem of large size and space occupation of conventional packing machines.
● Control mode: PLC+touch screen+standard control button+signal switch, divided into automatic/manual control mode
● The fault point can be found through the touch screen, and the fault can be easily eliminated.