Automatic Cartoning Machine with Liner
The automatic cartoning machine manufactured by SICIAUTO picks a single piece from a stack of folded cartons. Further, it fills it with the product or multiple products in a horizontal direction
TECHNICAL PARAMETERS

VIDEO
The automatic cartoning machine manufactured by SICIAUTO picks a single piece from a stack of folded cartons. Further, it fills it with the product or multiple products in a horizontal direction through the open end and seals the flaps of the carton by tucking an end flap of the carton or putting on glue or adhesive.
Model

XQ-TZ-120

Main motor power

5.0KW

Production capacity

30-65 Box / minute (depend on carton material and product size)

Overall dimensions

4100×1400×1680mm (length×width× height)

Machine weight

About 2,000 K g

Available carton size

Max. 200×80×70mm (length×width × height)

Min.130×35×30mm (length×width×height)

(the minimum and maximum values cannot be taken simultaneously)
Machine Principle

Features & Functions
1. It has Several patents.
Patent 1: The whole machine transmission principle and appearance patent;
Patent 2: The non-destructive box-opening mechanism opens the product carton using a multi-angle active mechanical action to open the box and send the opened carton to the transporting station. The original structure is a passive carton opening, and the surface of the carton is scratched;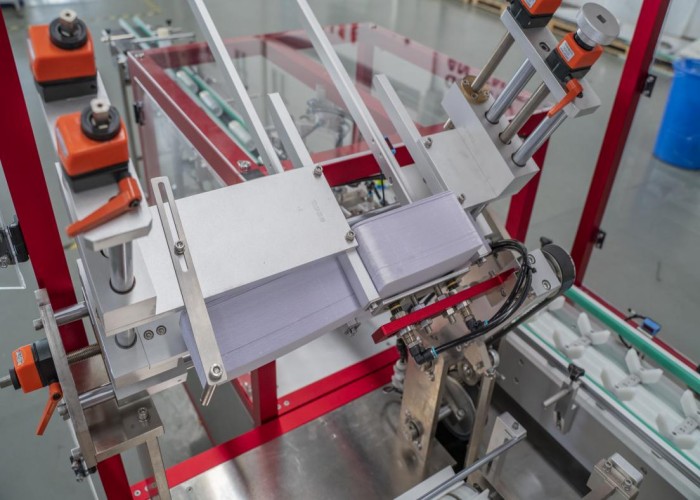 Patent 3: The non-damaged box transport mechanism adopts the mechanical cam linkage transport mode, the contact surface with the carton is made of polyurethane material synchronous belt, and the active synchronous transport box can effectively protect the carton surface without scratches;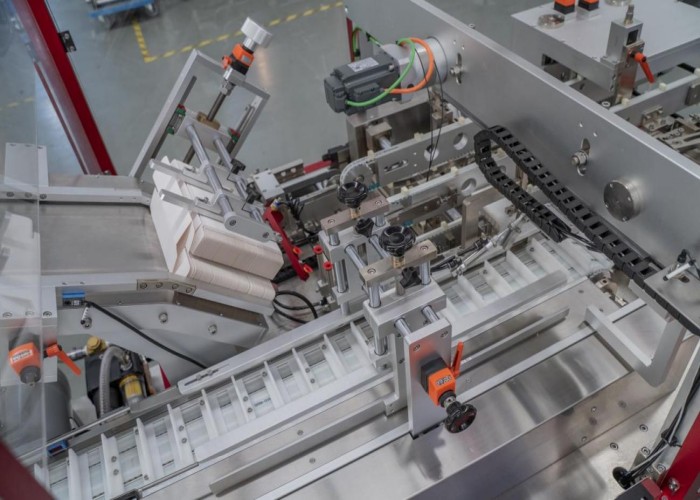 Patent 4: Folding, closing box linkage mechanism, the mechanism adopts mechanical cam linkage transmission mode, the whole structure is compact and easy to adjust
Patent 5: The push-bag-in-box mechanism adopts a mechanical linkage push-in-box mechanism, and the position of the push-bag can be adjusted accurately; the adjustable position of the whole machine is equipped with a digital display
Patent 6: Pushing the bag into the box mechanism, using a mechanical linkage pushing the bag into the box mechanism, the position of the bag is accurately adjustable; the adjustable position of the whole machine is equipped with a digital display;
PRODUCT SAMPLES
PACKAGING & SHIPPING
PACKAGING
Film wrapped inside and standard export carton packing outside.
SHIPPING
30 working days after confirming order and receiving the deposit.
Specific delivery date should be decided according to production season and order quantity.